One of the key features of any helpdesk is the ability to collaborate among agents, and HappyFox's latest integration with Slack takes this collaboration to the next step. Slack is an instant messaging platform that brings all your organization's notifications to one place, making that collaboration easier and faster.
---
HappyFox Help Desk is one of the top-performing Slack Apps in the "Brilliant Bots" category. Check out our listing on Slack's App Directory here.
---
Here's a short yet comprehensive video to help you set up the integration and show you how it works:
Create and update your tickets from Slack:
As more and more businesses continue to use Slack to communicate, the experience of having to switch from one app to another to report an issue can contribute to context switching.
This new integration lets you create new support tickets from Slack using either a /happyfox new_ticket [message] slash command or using the More Actions option. Additionally, you can modify an existing ticket's properties as well.
You can also respond to tickets with replies or private notes to the team members (slack users), right from the corresponding Slack channel.
Search your knowledge base:
With the Slack integration, you can search your knowledge base or FAQ too. With a simple /happyfox search_kb [keyword] command, you can also post the knowledge base article to a Slack channel instantly. IT service teams can use this feature to curate a comprehensive self-service repository for effective customer service management.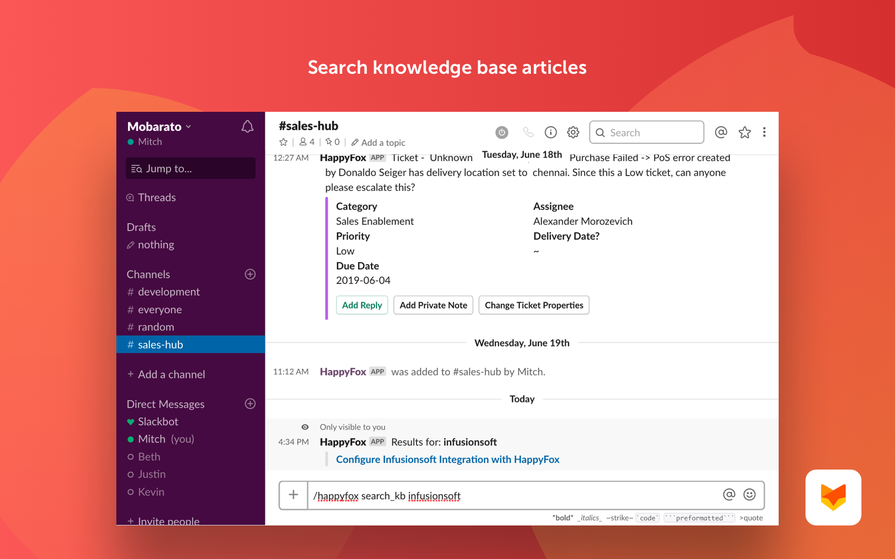 Post ticket notifications from HappyFox to Slack:
Smart Rules, HappFox's very own automation suite, enables you to automate posting Slack message notifications from HappyFox in real-time. You can even customize what notifications you choose to post based on specific conditions. With this feature, you can ensure the right tickets triage at the right channels for your customer support team to work on.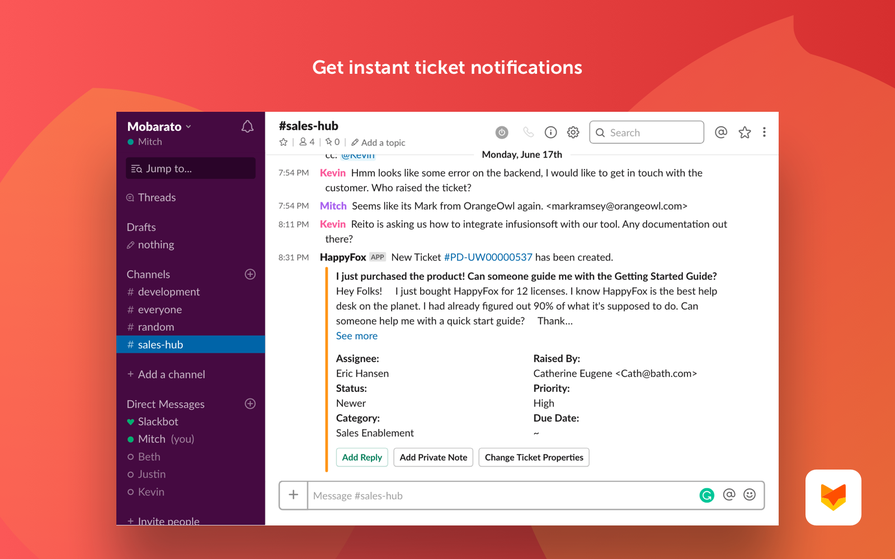 In short, this integration is a must-have if you're looking to enhance the customer experience within your organization. Users in your Slack workspace will find it easier to get help while making work easier for support / IT teams to respond to requests within Slack.
You can find more help on the integration right here, and if you want to schedule a demo & discuss different use-cases, reach us here.
Already using HappyFox and Slack? Get Started today and start optimizing your support workflows!
Looking for a conversational ticketing tool inside Slack? HappyFox Assist AI for Slack comes with built-in ticket deflection and emoji-based ticket creation features.